How do we enliven and animate a passive object that was once enlivened? In other words, how is the queer and femme body represented, both symbolically and materially, and what sociopolitical issues are implicated in these representations? I aim to address these questions by creating a series of multimedia painting and sculptural works of femme-presenting bodies as vessels. I will grapple with themes of receptivity vs. passivity, interiority vs. surface ornament, reproduction vs. oppression, and the spiritual vs. the material. I plan to complete the project in June-July 2023, alongside the design of programming for public openings and conversations. I hope to agitate dialogue about body politics with a larger audience. 
Michelangelo Buonarroti's Studies for the Libyan Sibyl (ca. 1510-11) 
captures a moving body and directly informs this Sistine Chapel ceiling detail. 
My research builds off of my arts and biological dual studies at Yale University and in Florence, Italy, where I have studied anatomical depictions of the body as developed in the basements of churches during the Renaissance period. New visual modes of representation involved a humanistic animation of the body by artist-anatomists such as Antonio Pollaiuolo and Leonardo da Vinci, using careful surgical dissections and imagination to render exact muscle groups and circulatory system structures. My project will bridge the humanistic imagination utilized in these studies and contemporary issues of gender, race, ornamentalism and reproductive rights through the development of femme vessel installation works.
Ecstasy (2022), Charcoal on paper. 11" x 16." 
I will be mindful and conscious of the associations that may be made through political-figurative work. How we treat the body–including how we bury, ritual, cremate, tend to, care for, study, dissect, feed, caress, and massage it–reflects our values as societies. This topic is heated and sparks debate surrounding transfeminism, abortion rights, and bodily autonomy. To flesh out my understanding of intercultural and international perspectives regarding these issues, I aim to have conversations and interviews with people of various scholarly and trade occupations, including anthropologists, ethnographers, morgue workers, funeral home directors, cremators, gravediggers, doctors, nurses, hospice care workers, massage therapists, and caretakers of religious institutions. I will consider a holistic array of perspectives and document my studies in the blog arm of my website. Therefore, during both its creation and display, my art will be a flash point for these relevant issues. I am excited to participate in these conversations, to learn from others, and to disseminate intersectional knowledge of the representations of the body. In this way, I hope to challenge traditional, reductive ways of viewing the body, namely the queer, femme, and racialized body, and to inspire new and/or courageous relationship formations.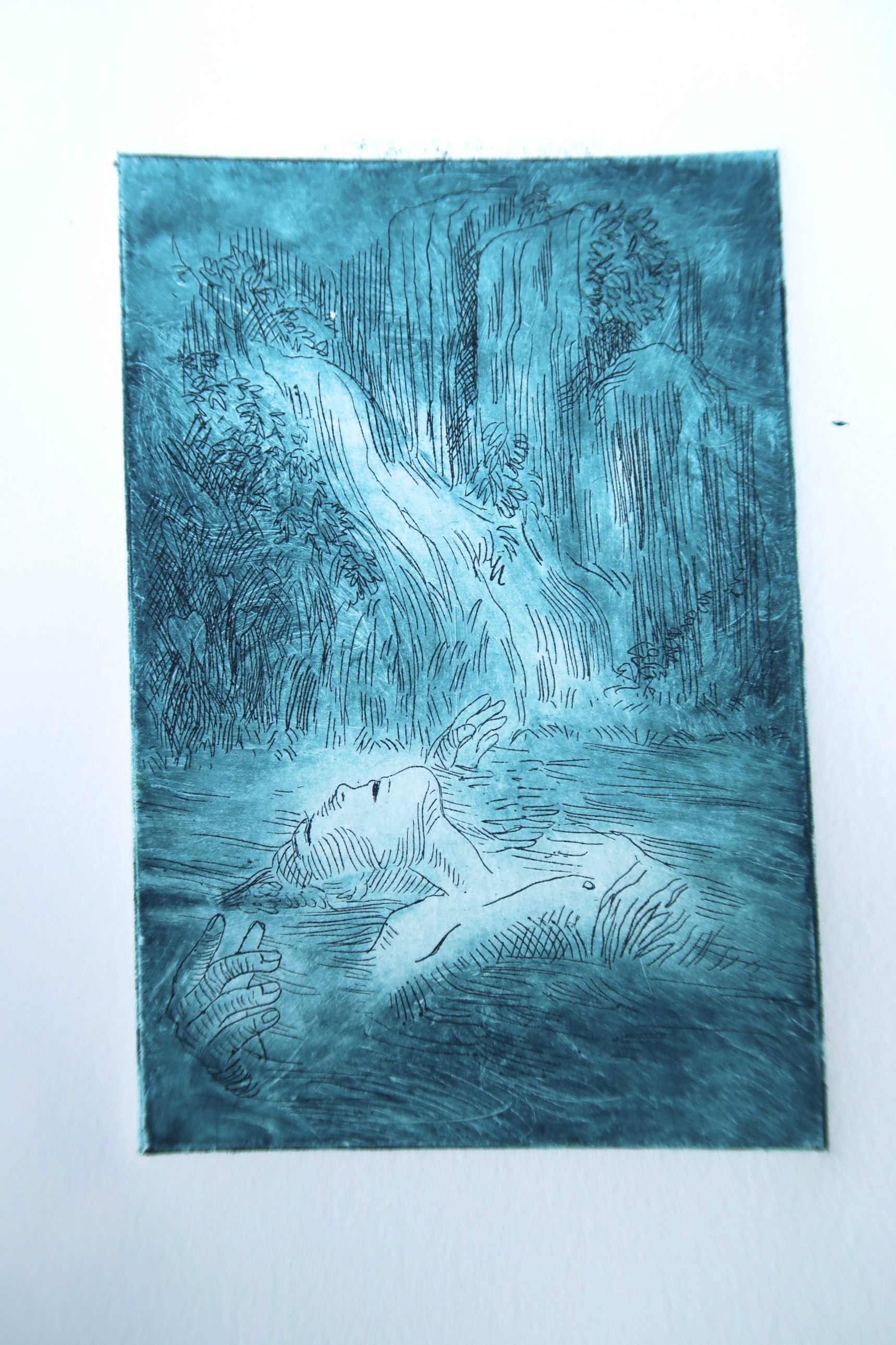 Venus overflowing with love (2022), intaglio print. Series of 15, 5" x 7."
On a night of the full moon (2022), oil-based ink on watercolor paper. Series of 15, 8" x 10."